Benefitsheet Ecoratio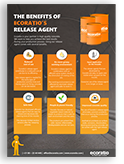 Ecoratio is your problem solver regarding concrete production and smooth concrete finishes. We have developed release agents that are environmentally friendly and solve your problems during the demoulding process. In this benefitsheet you will find an overview of all benefits Ecoratio can offer, so you will achieve the best quality concrete possible.

The purpose of this sheet:
To inform you about all possibilities when using our release agent;

Let you gain insight into the factors that makes Ecoratio the best release agent company;

To motivate you to improve your concrete production process with the help of Ecoratio;
Fill out the form and get to know about our benefits.